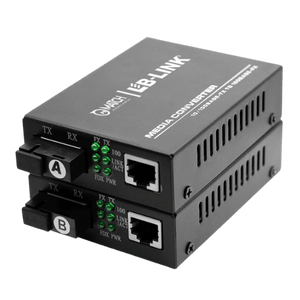 Media converter Gigabit 10/100/1000
Rs. 1,799.00

Rs. 1,799.00

Save Rs. 3,101
Tax included.
Shipping
calculated at checkout.
---
---
Gigabit Media Converter- 10/100/1000 | Match LB-Link
BL-MC20SFG
10/100/1000 BASE-TX TO 1000 BASE FX
Match LB-Link's Gigabit Media Converter 10/100/1000 enables to connect two dissimilar networks. 
It is used to link fiber optic cable to twisted pair for supporting ethernet-compatible devices.
[ Gigabit 10/100/1000Mbps Speed ]

This Gigabit media converter provides the fastest speed of 10/100/1000Mbps. It supports which meets the standards of IEEE802.3, 802.3u, 802.3x.
It can conduct mutual conversion between 10Base-T/100Base-TX twisted-pair electrical signal.
[ Auto Negotiation ( 802.3ab) ]
Match LB-Link Gigabit media converter supports auto negotiation of Automatic full-duplex and half-duplex conversion.
[ Fast and Stable transmission ]
This Media Converter provides faster and more stable transmission. Also, It can provide hot swappable power protection. It extends the transmission distance of a network from 100m over copper wires to 20Km.
[ Easy Set up and Installation ]
It is very easy to set up this Media Converter. You need to just plug and play. This media converter provides average trouble-free usage of more than 50000 hours. It also accords with standard telecommunication level operation.
[ LED Indicators ]
It has LED indicators to know what is active in this 10/100Base TX to 100 Base FX bridging converter. It has active adopted four layers circuit structure, stable work, smooth data transmission, the anti-interference ability.
[ Other Features ]
* Supports SPANNING TREE structure fault-tolerant network
* Support hot swaps
*Automatic full-duplex and half-duplex conversion
* With the German Siemens surface welding assembly lines processing
*Make in India with 3 Years of warranty
Technical Specification
100 BaseFX
1000 BaseFX
Band Width
IEEE802.3,802.3u,802.3x
RJ 45 Port
10/100 BaseT(X)
10/100/1000 Base T(X)
Wavelength
850nm/1310nm/1550nm
Fibre Port
100BaseFX
Optical Fibre
100 BaseFX
1000BaseFX
Multi-Mode
Single-Mode
Multi-Mode
Single Mode
Distance
2km, 1310nm
25km, 1310nm
500m, 850nm
2km, 1310nm
25km, 1310nm
Max
 -20dBm
-10dBm
 -10dBm
 -10dBm
-10dBm
Min
-14dBm
-3dBm
 -3dBm
 -3dBm
-3dBm
Sensitivity
<-18dBm
<-30dBm
<-18dBm
<-18dBm
<-22dBm
Power Requirements and Environmental Limits
100BaseFX
1000BaseFX
Input Voltage
                   5V
Power
                   5W
Operating Temperature
            -20 ~ +70°C
Storage Temperature
            -40-+85°C
Ambient Relative Humidity
        5-95% (non-condensing)
Other Details
100BaseFX
100BaseFX
Internal power supply

With 2 RJ-45

External power supply
With 4 RJ-45
Internal power supply
External power supply
Dimensions (mm)
94x70x25
140x110x30
215x110x30
94x70x25
140x110x30
Weight(g)
148
400
666
148
400
Out carton Dimensions(mm)
240x120x58
230x160x70
295x175x95
240x120x58
230x160x70
Out carton Weight(g)
396
685
1055
396
685